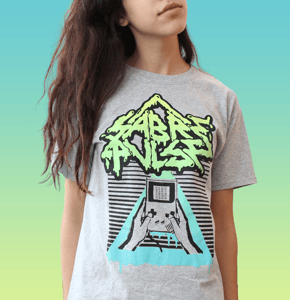 £

14.00
SOLD OUT!
New run of this design for 2k13, this time with a dual green/blue gradient on gildan heavy shirts. Limited to 50! All orders come with free stickers :)
I try to get orders processed and mailed ASAP in all cases, for UK orders please allow a week for delivery, europe a little longer and US/International orders max 3 weeks depending on where you are.
If you have any questions or issues please feel free to ask me on twitter.com/sabrepulse or email me at bookings@sabrepulse.com
thanks for the support!